RomeShop

---
Rome is a simply marvellous place to shop, although the English or American visitor may initially find some drawbacks to romeshopping. One is the siesta, (everything closes for the entire afternoon) The other is a certain slackness where the Trade Descriptions Act is concerned. (I don't think they have one).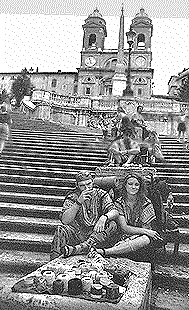 Euro-Hippies ply their wares on the Spanish Steps
---
There is no 'consumer-power' in Italy and they've never heard of 'Which' magazine. Also, the more specialist shops have a habit of keeping everything behind the counter, so you can't browse or choose or examine what you want to buy before needing to ask for help. This is difficult for us cold and reserved Brits, as it forces us into a dialogue with the sales person, and if our Italian is not good, we may well leave the shop without buying anything at all,or if we do, we will forever wonder if there was not something much nicer, (which we would rather have bought) hidden somewhere behind the counter. However, there are other advantages to shopping in Rome, not least, the prices;
In England, the purchase-price of most luxury items such as hi-fi and optical equipment, and even cars and motorcycles are subject to enormous amounts of tax. In Italy this is not the case - some purchase taxes and thus prices are generally lower. Furthermore, Italians are big spenders on luxury items. They spend wildly, lavishly, (perhaps a little beyond their means!), and like the Japanese, they are particularly fond of hi-tech electronic gadgetry (mobile phones, walkmans, compact cameras, car stereos etc). Thus, there is an exceptionally healthy retail market for these items, particularly in the bigger cities north of and including Rome (such as Milan and Turin). This means that a camera (for example) costing you £700 in London might only cost you £600 in Rome. Moral? - Buy it in Rome… BUT, there is a rather large problem. On re-entering Britain, customs will charge you heavy duty on anything less than a year old bought in Italy, which is likely to negate any saving you made. As we do not recommend smuggling as a way round this, we can only say 'tough luck' to all short-term visitors to Rome! But if you are planning to stay in Italy for a year or more, and with current exchange rates as good as they are for Brits, change as much sterling as possible before you come, and buy your camera, hi-fi, Harley Davidson or whatever when you arrive in Italy. Then your 'vita' in Rome will indeed be 'dolce'.
The sheer choice of beautiful things available for purchase in central Rome more than makes up for any inconvenience you may initially experience in adjusting to Roman sales techniques though.
Italians are design addicts - They love innovative design, and they always like to have the latest thing. This means there's some jolly nice stuff in Rome for the buying, not least fashion...
La Moda (Fashion)
---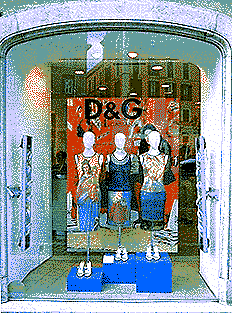 Although Italian menswear tends to be a bit non-U, Rome is nevertheless great for women's high and radical fashion, bettered only by Paris or Milan.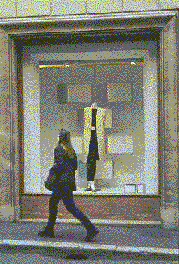 You can't afford it!

---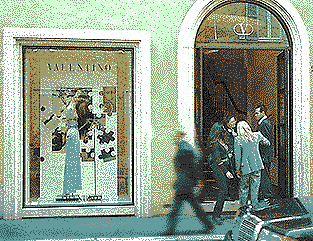 But you can...
---
If you're seriously shopping for couture items there are wonderful shops all over central Rome, but if you're just window-shopping for dreams or ideas, the place to be is the Via Condotti, where most of the major fashion houses are represented: Valentino, Max Mara, etc, etc.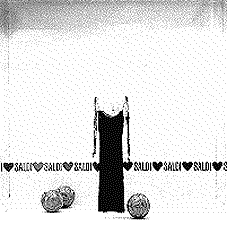 Little black dress from Moschino - evidently not quite the bad boy he once was.
---
If you're in the habit of buying haute couture, you'll know this already of course, but if not, it feels good to just stroll down this street anyway and dream…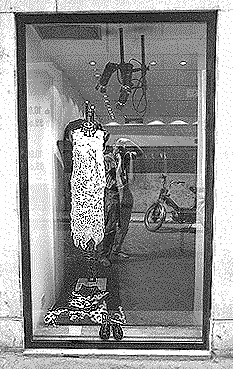 Another dream of a dress on the Via Condotti... or is it a rather quirky portrait of our staff photographer?
---
Souvenirs
---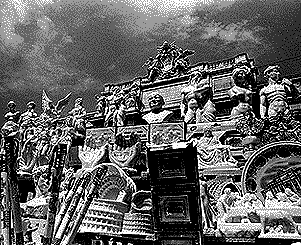 Not a photomontage, but a low-level shot of a typical Roman souvenir stall at the Trevi Fountain, with the fountain itself in the upper background. For some reason we were lambasted by the stall-holder for taking this shot.
---
We're not really into souvenirs at Romebuddy, souvenir collecting being the somewhat plebeian pursuit that it is, though having said that, you will find that tourist souvenirs in Rome tend to be nicer than those in other big world cities. They are mostly very well made miniature replicas of all the famous statues and landmarks of Rome and Italy in general. Michaelangelo's David and Moses are favourites, along with a very romantic hybrid version of David snogging a nude Roman beauty (just visible in the appallingly scanned picture above) which is rather tacky, but quite sweet all the same. There are souvenir stores located at all the major tourist hot-spots of course (Trevi Fountain, Coliseum etc) and they all sell pretty much the same stuff, so it's worth haggling to knock the price down a bit - If one stall-holder won't budge on his price, another one may. There are also many gift-shops selling nice prints, posters and postcards featuring some excellent photographic renditions of Rome.
If you travel a lot and are in the habit of buying souvenirs, we're fairly confident that the ones you buy in Rome will still be sitting on your mantelpiece or hanging on your walls long after those collected in other countries have been stashed away and forgotten in a dusty drawer somewhere.
bookshops
---
Italians are into books in a big way, and Rome is choc-a-bloc with terrific bookshops. Most have foreign language sections so you can usually find English versions of the more popular titles. But Italians excel in art books and those large glossy coffee-table tomes full of photos. There's a healthy graphic novel and anime interest in Rome, as well as mile upon mile of more intellectual and philosophical stuff if you can read italian.
Many street-markets also have book sections, and there's a large book-market near Termini station. If you only want English books, visit
The Economy Book and Video Centre, at Via Torino 136, tel 474 6877.
They sell only English books and also hire out English movies on video. They also sell used books so you can save a quid or two, which is particularly good, new books in English being normally quite expensive, having been specially imported.
You can also buy The English Yellow Pages there.
markets
---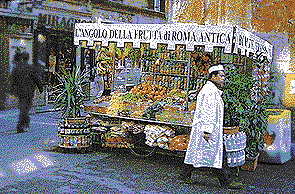 Street-markets in Rome are numerous, and like markets anywhere they're good for bargains. The most notable in Rome is Porta Portese in Trastevere. Sunday is the big day for this, and while there is a lot of fairly average tourist bric-a-brac there, if you get there early enough, this long straggling market also has some pretty amazing things on sale, too numerous to mention here.
---
...like any of our pictures?