La dolce vita
(the sweet life)
---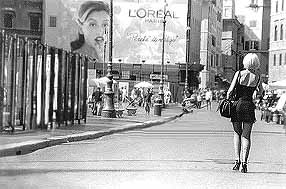 A lazy, late summer afternoon in Piazza Navona. Hard to imagine the same scene in Macclesfield or Pittsburgh.
We're finally going to use the phrase 'La Dolce Vita' here at Romebuddy. We've used it sparingly because it is such a lovely expression, and should not be blatantly overused or cheapened. But Rome is the home of La Dolce Vita, and while the city is a shadow of what it was in the fifties and early sixties, it still lives up well to it's decadently romantic reputation.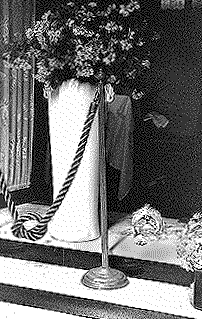 Well connected dog enjoying the sweet life outside restaurant on Via delle Muratte, a stone's throw from the Trevi Fountain.
The romance
---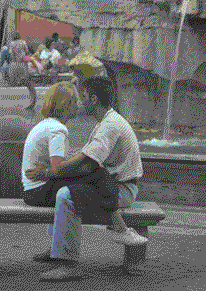 Young lovers by the fountain in Piazza Navona in typically un-self-conscious pose
---
Rome is the place to fall in love. To stand on one of its bridges on a warm summer night, gazing at the floodlit city vista and listening to the crickets singing, one can easily lapse into spouting some Shakespeare sonnet on the joys of Mediterranean romance. But what will probably strike the English visitor most is the tremendous outward display of love and affection by the Romans. We're not just talking about romantic love here, but also friendship and family ties. Quite apart from the mandatory social kissing at every hello and goodbye, there are so many more gestures of amore on show in Rome, both platonic and romantic. Young teenage girls will rest their heads on each other's shoulders, and even girlfriends in their twenties will hold hands or go even arm in arm in the street. Brother and sister will embrace, young men will flirt with baby girls, mothers will shower their grown up sons with hugs and kisses, and all this in the street, in the bar, in the shops, anytime, anywhere in fact. Lovers kiss and exchange gifts on the train.
British romance tends to be claustrophobically dull and physical by comparison, for England's foul, wet, chilly weather drives lovers indoors on most evenings of the year, with nothing but the TV and the bed to cement the relationship. British lovers embrace each other under the bed-covers simply to try and keep warm than for any other reason! In contrast, Italy's golden warm weather and easy-come easy-go life of bars and scooters allows Rome's lovers to spend countless evenings drifting happily through its winding streets and piazzas, sharing discoveries and adventures together or in groups of friends and family. Romances are thus more relaxed and fuelled by more platonic pursuits than in England, allowing serious relationships more time to develop into something deeper and more meaningful. Whilst it is true that Italian society is highly sexually charged, with much macho posturing from young hetero studs congregating outside the bars, and beautiful pouting girls with perfect figures poured into skin-tight dresses drifting like sirens among the fountains, all casting provocative glances back and forth between each other , it is all somehow peculiarly mixed up with traditional if now hypocritical family values - girls love their boyfriends only slightly more than they love their brothers, and boys love their girlfriends slightly less than they love their mothers. As in all great cities, there is of course an exciting singles scene for short-term visitors who enjoy action and variety, but long term visitors to Rome searching for true love will find it the most delightful setting in the world for the gentle flowering of a deep and dream-like romance.

Trastevere
---

is the old residential area of Rome, until recently the habitation of working class families who had lived there for centuries.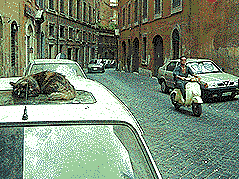 Typical Roman street complete with cat and the ubiquitous scooter. Rome's enormous stray cat population is legendary. Nobody in Rome actually owns a cat. There's no need! Put a couple of fish-heads outside your front-door every couple of days and you'll make plenty of feline friends.
---
Since the war however, Trastevere has come further and further up-market until it is now almost exclusively the neighbourhood of successful artists, intellectuals and professional trendies. In a move comparable to the development of the London Docklands in the eighties, the last few old locals whose leases had expired were forcibly evicted from these million dollar properties in Trastevere five years ago, though just a handful of retired shoe-menders and washer-women still survive in their old damp basements underneath the dentists and record company executives. That's enough politics for now - Let's switch to the aesthetic review of Trastevere - It's absolutely charming!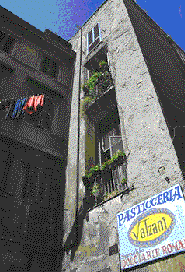 Cross the river on foot on any bridge near the equally haunting and mysterious island, 'Isola Tiberna', and you'll be in Trastevere - step into the cool shade of the nearest street and you'll step back three or four hundred years. Anybody who's ever visited The Shambles in York and was bitterly dissappointed to discover that it was only one street of plebby nouveau-riche tea-cosy shops will not be similarly disappointed by Trastevere. Trastevere is the real thing! Endless winding cobbled streets, tiny little bars of exquisite intimacy, and washing hanging out between the shuttered windows high overhead. Red ochre and burnt sienna wash paint peeling from ivy infested stone walls, trickling drinking fountains set back into dark carved crevices, while the smells of rich espresso coffee, freshly baked ciabatta and sun-ripened dog turds waft through the air. There is also an enticing collection of little antique shops and jewellers sprinkled throughout these magical streets, together with the occasional artist or sculptor's studio. If you're gonna get lost anywhere in Rome, then get lost in Trastevere. You'll never want to find your way home again…
The Architecture
---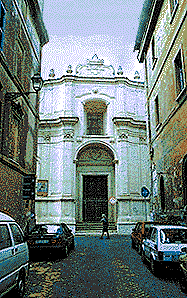 Rome's architecture is stunning, the more so because of the curious variety of architectural periods in evidence there. There's more than two thousand years of buildings, all built on top of each other, as Rome's empires and civilisations have risen and fallen. Unlike most of the world's cities which have been bombed to pieces during at least one war this century and completely rebuilt in the modern style within the last fifty years, Rome has escaped such destruction, so it's all still there to see.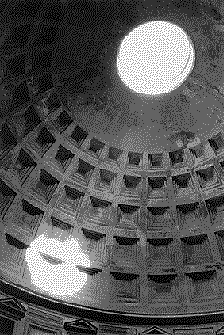 Interior of the fabulous Pantheon - This has to be seen to be believed. No, you are not mistaken - that really is a big hole in the ceiling - Don't ask me what they do when it rains...
Obviously there's the Roman stuff such as the Coliseum and the fabulous ruins of the Forum, fifty foot high columns amazingly still standing after twenty centuries.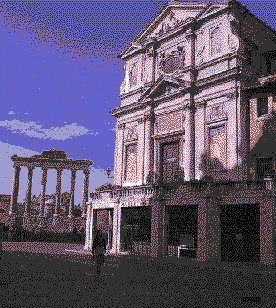 Then there's the medieval stuff, pretty little arches and terracotta tiling, followed by grandiose rococo edifices of the eighteenth century, and much later the severe but perfectly executed public buildings of the fascist regime.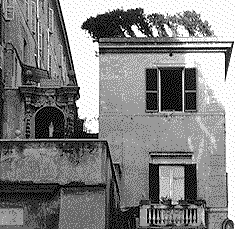 Yer' own personal Mary - rooftop shrine on the left of the picture shows what a little imagination and a big dose of Catholic piety can do to brighten up any dull inner-city apartment...
Rome is packed with curious little niches of exquisitely juxtaposed architectural beauty like this. But blink and you could miss them. Get into the habit of looking up as you walk through the city, and explore all those nooks, crannies and alleys.
On the outskirts of town modern apartment blocks built since the 1960s predominate which are nothing to write home about, but Rome's city centre consists of a good thirty square miles in which hardly a single modern building stands at all. And it's all beautiful stuff, designed and crafted by some of the world's most gifted and adventurous architects and artisans.
The art galleries
---

Like all major cities, Rome has it's share of excellent art galleries, and this being Italy, there are plenty of fine and famous works by all the major Italian artists. In addition, most other principal European artists are represented, many of whose works are rarely seen in British galleries. Works by Klimt for example, (an artist much in vogue now but almost never shown in London) are on view, and also some of the swagger portraits of Giovanni Boldini, the dashing belle époque society artist.
La passeggiata...
---

...is the stroll taken through town every Saturday night or Sunday afternoon by countless Romans. It translates as 'promenade', or 'stroll', and is a practice carried on throughout most of Italy, and a number of other southern European countries. The Romans however are particularly good at it. La passeggiata is the Roman family strutting it's stuff in front of other Roman families, but couples and individuals also take part. There is nothing like it in England anymore; One must dress up a little for the passeggiata, something largely unheard of in England today. Children and suitably domesticated and groomed dogs may also partake. On Sunday afternoons, the shops will be closed and only a few bars will open, so the passeggiata is strictly an occasion on which to see and be seen. Nothing more and nothing less.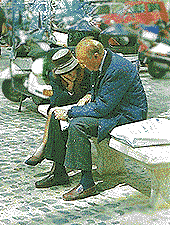 Not-so-young lovers take a breather during the passegiata. But just check out that stylish hat and the three inch heels the dame's wearing. In Rome, age is not an excuse to start dressing down.
---
In Rome the main passeggiata is held on the Via Condotti, from Via Corso to Piazza di Spagna. This area is always a pedestrian-only zone but on Sundays half of Via Corso is closed to traffic as well. Sometimes on a particularly pleasant evening weatherwise, a spontaneous passeggiata can occur midweek, anywhere, without warning. It's difficult to describe it any further - Just dress up and join in - You'll soon get the idea.
The beach
---
Rome's best kept secret is that it's only half an hour from the beach. Hot sandy beaches and warm blue Mediterranean sea. Take the train from Termini to Ostia Lido, or drive down the Ostiense or the Via Cristoforo Colombo to Ostia Lido or Castel Fusano. It's easy, and makes a refreshing break from the hot streets of Rome city-centre. Ostia Lido is a cross between Miami Beach and Skegness. A bit seedy. Run down stucco-fronted pink yellow and peppermint green art-deco and Spanish-style apartment houses lining the sea front, and lots of tacky gift shops. Two cinemas though, at least one decent pizza joint, a good shopping area and even McDonalds. What more could anyone ask?
The craziness
---
Rome is just a slightly unhinged place - that's all there is to it.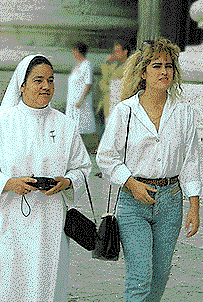 The Odd Couple visit the Vatican
---
Whether it's the heat or the wine or the olive oil, or something genetic, we don't know, but the Mediterranean temperament reaches it's metropolitan boiling point in Rome. As a city, at this time in our civilisation's history, it's a tremendous gamut of religiously and politically opposing social conventions and fashions.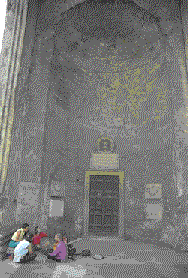 Post-punk hippies whip out their guitar for a spontaneous begging-bowl jam in the porch of The Pantheon, practically Rome's oldest church building, converted from a pagan temple rebuilt by Emporor Hadrian after a fire in AD70.
---
Amid this crazy ancient patchwork of different architectural styles on the skyline, two thousand year old Roman monoliths battle for pole position with sixty foot high billboards for cosmetics, mobile phones and 18th century rococo fronted churches.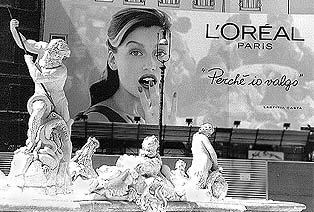 Because she's worth it? Laeticia Casta gains monolithic supermodel status as L'Oreal's gigantic billboard in Piazza Navona dominates the historic landmark during refurbishment of the fountains. Although the slogan is translated to Italian, the product is French and the model is French-Corsican, but Italy has never barred true beauty from its borders, nor is the subtlety of Casta's virginal aura subliminally lost on the populace of this city which has built its reputation on the iconic worship of the Madonna.
Everyone is beautiful, everyone is stylish, everyone is occupied in their own fiercely hedonistic search for a beautiful and meaningful lifestyle - A Romelifestyle…
---