Portraits in Rome by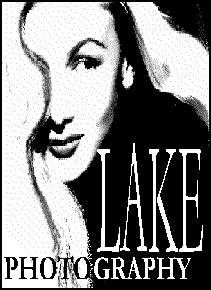 Ever thought of having your portrait taken professionally?


The people pictured in our gallery did, and they came to us.
You can come too.
We're based in Rome, and for a very special reason - There comes a moment in all our lives when we suddenly know exactly who we are. Our speciality at Lake Photography is capturing that moment. And if you've reached it, then we're ready. (with the camera that is).
In Rome. The Eternal City.
Imagine being photographed against the fabulous backdrop of the Rome skyline...
Draped in front of the Trevi Fountain (where Marcello Mastroianni watched Anita Ekberg go wet-look, in 'La Dolce Vita')
Or on the steps of Piazza di Spagna. Or in the shadows of the old Roman columns of the Forum.
Rome cries out to be photographed, yet the picture would not be complete without you. And your dream would not be complete without Rome in the picture.
Bring something special to wear if you'd like - Or buy some little designer number on the Via Condotti when you get here (there's some terrific collections this season)... and you'll be ready to pose on the streets of Rome like a million models, actors and bon viveurs before you.
What's your fashion fantasy for Rome? - Audrey Hepburn in Roman Holiday, or Audrey Hepburn in Breakfast at Tiffanys? Hire a scooter for a retro street-look. Or re-capture the spirit of 50's cocktail society. Or the decadent dignity of La Belle Époque. Or some cool geometric 60's chic.
And one other thing - There's no hangup with furs here. Italian women wear a lot of fur. For winter they're de rigueur in Rome. If you've ever wanted a place to strut your furry stuff, Rome's the place.
Lake Photography takes beautiful portaits of men and women, young and... mature! Bring your children for a family shot among the fountains of the Piazza Navona or on the steps of the Campidoglio. Or bring a friend for a double-act.
Glance through the pictures in the adjacent frame. (hover your mouse for brief descriptions of each) These are low resolution scans for fast loading, so we apologise for the quality - But make an appointment and we'd love to show you the beautiful originals.

When you're ready to capture your most idyllic moments, Rome has the setting and Lake Photography has the expertise.
Lake Photography also handles conventional portraits and commercial photographic commissions.
LAKE PHOTOGRAPHY (ROME) (06) 5258 193
FOR A PHOTOGRAPHER
IN ROME THAT TALKS
YOUR LANGUAGE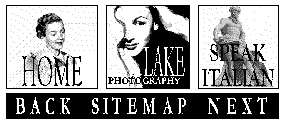 SAME PAGE IN ITALIAN